News
Merge 104.8 celebrates its 2nd anniversary
Merge 104.8, Oman's most local and dynamic English FM station and a pioneering SABCO Media product recently marked its 2nd Anniversary on June 7th 2013, a true testament to the station's popularity and widespread national success since its establishment in 2011.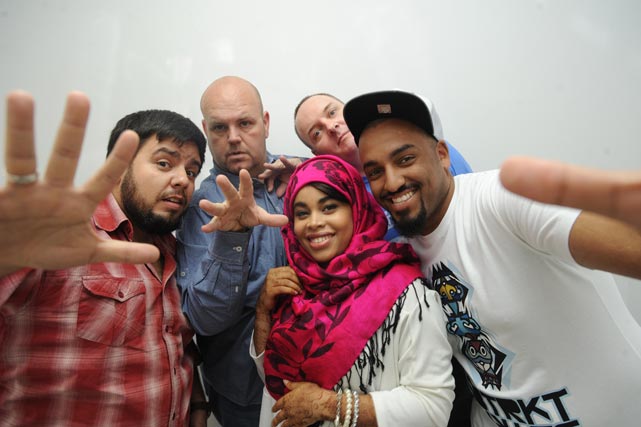 As part of the celebrations, Merge 104.8 organized a number of fun and exciting on-air promotions and competitions for its listeners over the course of two weeks which revolved around the radio station's anniversary. A number of special added-value prizes and giveaways were awarded including cash prizes, airline tickets, children's gift vouchers, gadgets such as smartphones, modems and internet data packages, discount books, and health and lifestyle gifts, amongst others. Listeners participated via SMS as well as through Merge 104.8's popular social media platforms; facebook and twitter.
To mark the Anniversary, Eihab Abutaha, CEO of SABCO Group – Communications expressed, "We are very proud to mark the milestone of 2 years in Merge's history, as it is a testament to the stations dynamic flair, operational innovation and market success. We are pleased to say that Merge has visibly and effectively contributed to the diversity and ingenuity of the Omani media scene since it launched in 2011, and we look forward to further success and achievements in the years to come".
Abutaha added, "I would like to take this opportunity to thank the entire team at Merge 104.8 and SABCO Media, as they have all been instrumental in the station's success and prosperity."
Nadim Attieh, Station Manager at Merge 104.8 also said, "We have established a strong and loyal listener base over the last two years and we renew our commitment to introducing new and enhanced ways of constantly engaging and appealing to our valued audiences who represent the core of our operations. I would also like to specially thank Chris Fisher, Rumaitha Al Busaidi, Neal Bowden, DJ Fawaz and Sami Al Asmi."
Attieh concluded, "It was essential for us to celebrate our 2nd Anniversary with our listeners through our on-air promotions and competitions, and we are happy to see that they have been very well received. Merge listeners can expect more fun and engaging on-air activities in the near future."
Founded in June 2011 by SABCO Media, Merge 104.8 has visibly redefined the English radio experience in the Sultanate and has established itself as one of the most popular and sought-after FM stations. Its proven success can be attributed to its original programming, deep understanding of its audience through genuine knowledge of Omani society, fresh local flavor and ongoing commitment to diversity, making the leading station a household name for Omanis and expatriates alike.
Inspired by the rich mix of the Omani society, the leading station merges cultures, music and fun to deliver rich content, served with a fresh local flavor. Merge's broadcast coverage area covers Greater Muscat and the Batinah Region of Oman, as well as worldwide streaming on www.radiomerge.fm
Popular shows on Merge 104.8 include: 'Chris Fisher in the Morning', 'Afternoons with Rumaitha', the 'Muscat Drive with Neal Bowden', 'The Weekend Drive', and Mellow Merge, along with exclusive weekend dance shows by the world's top DJ's.

Loading ...
Latest from Twitter