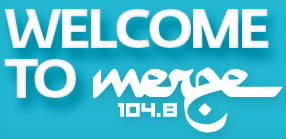 Tune in to the mix!
Take the rich Omani history and merge it with its modern society. The result you get is Merge 104.8 - the best of both. Oman's newest radio station and a part of SABCO Media. We know where we come from and where we want to go. Tune in and we'll take you on a musical journey to the freshest beats in town.
Read more
Ramadan Mornings with Neal Bowden

Our Total Access guy will be setting his alarm clock early for the Holy month of Ramadan! Join Neal for Ramadan Mornings for a stress-free start to your day…

Read more

Afternoons with Tom Green

Join Tom for a fun-filled show and lots of great music through the afternoon!

Read more

Ramadan Nights with Chris Fisher

Chris Fisher will be here every weeknight and has the perfect evening planned during Ramadan. You're invited to join the excitement on and off air out on location.

Read more

Loading ...
Latest from Twitter