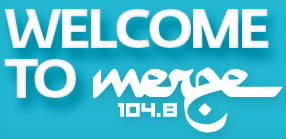 Tune in to the mix!
Take the rich Omani history and merge it with its modern society. The result you get is Merge 104.8 - the best of both. Oman's newest radio station and a part of SABCO Media. We know where we come from and where we want to go. Tune in and we'll take you on a musical journey to the freshest beats in town.
Read more
Merge Breakfast with Tom Green

Merge Breakfast is a great way to start your day! Join Tom from 6am as he gets Oman moving in the morning.

Read more

Afternoons with Chris Fisher

Join Chris for a fun-filled show and lots of great music through the afternoon!

Read more

Total Access with Neal

Playing more of Oman's Best Mix to get you home. From 7pm its 2 hours of the music YOU choose!

Read more

Loading ...
Latest from Twitter