News
Merge 104.8 turns One
Merge 104.8 will celebrate its first anniversary on June 7th, bringing to close an eventful and highly vibrant year that saw it strengthen its foundation and make the 'you- are-listening-to-Merge-104.8' a mantra for commuters in the capital and outside. As it stands on the threshold of a fresh new year, we present the faces behind Merge; the voices that have been entertaining us for the past one year!
Read on to hear about their experiences and thoughts of their first exciting year at Merge 104.8.
THE FACES
PRESENTER: CHRIS FISHER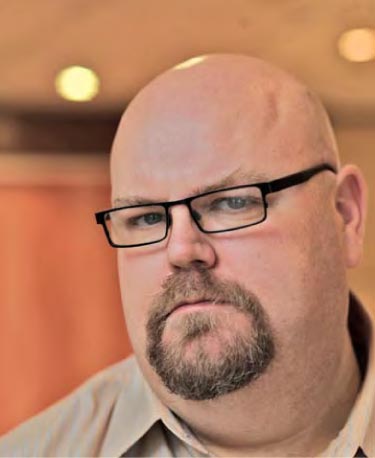 SHOW: 'Chris Fisher In The Morning', Saturday-Wednesday 6am-10am
ABOUT THE SHOW:
It is a music-led breakfast show, punctuated with light-hearted chat, local information, and sports news – it's informative and fast-paced. The show kick-starts people's day; it's important to keep their spirits lifted and get them to school/work in an upbeat mood. We also hold competitions on a regular basis with a variety of prizes.
Social media has been great with lots of interactivity; it also lets us know how, and if, we are engaging with our listeners. Sometimes, our listeners' feedback can make us go off on different tangents and bring a completely fresh perspective to our discussions and content on the show.
Our jobs are very public but we are very accessible, nonetheless; we don't live in a bubble. It's also nice to bump into listeners in person and they relay feedback to you. Any feedback is good, whether it's encouraging or providing us constructive criticism.
YEAR AT MERGE:
I have enjoyed my time at Merge – it's been an interesting and fascinating 12 months. I have been in the radio business for 19 years, having spent 12 of them in the Middle East, with a decade in Dubai and now my time here. Oman and Dubai have been very different experiences and I do feel I have made the right transition.
I feel we have fitted in quite well in the radio market; we brought a different structure and approach, which includes more local content within our shows and stations. Our music playlist contains slightly more mature songs; it's a good mixture and we have worked hard upon that.
I really admire each and every listener who has made the effort to reach out and speak to us, whether it's face-to-face or any other medium. I continue to greatly encourage listeners to give us constructive feedback, even if they spot me in the street.
MOST MEMORABLE MOMENTS:
The launch day was definitely memorable – being the first live voice on a radio station is an honour, and as a presenter, it was a privilege to get that opportunity. Another significant moment was interviewing the former Indian Ambassador to Oman, Anil Wadhwa, just before he concluded his term here; he was very nice, down to earth, and accessible, putting me at ease.
FIRST YEAR AT MERGE IN THREE WORDS:
Hectic, Fun, and Interactive
FUTURE PLANS:
As we get into our second year, I would like to take the station out on the road and at various locations across Oman, to encourage greater visibility. We would like to keep on interacting with our listeners, incorporating their feedback to make the perfect sound at Merge 104.8.
---
PRESENTER: RUMAITHA AL BUSAIDI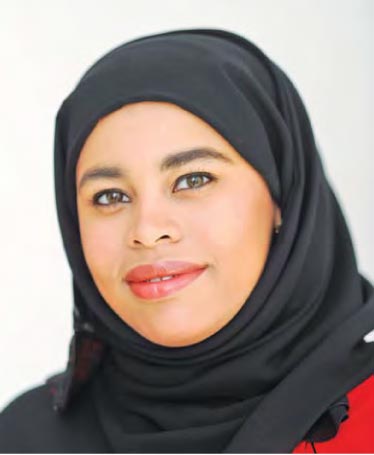 SHOW: The Lunch Break, Saturday-Wednesday 1pm-4pm
ABOUT THE SHOW:
There are a variety of segments in the show; one segment that has particularly stood out though is the 'Wilayat Shu' in which I interact with listeners about the various wilayats of Oman. I have received a lot of feedback, especially that I have been informative about Oman, from both Omanis and expatriates. I too have enriched myself as a result of this segment and learnt so much more.
YEAR AT MERGE:
It has been getting better and better and I love each and every moment of it! Social media too has been fantastic – it has been crucial in facilitating interactivity with the listeners.
Your voice becomes your identity; it's nice when you call someone and you don't even have to introduce yourself as they recognise you by your voice. One challenge that I did experience was that I came from an entirely different radio format to Merge, so I had to learn how to be my own director and run my own show, which was quite a transition to make.
MEMORABLE MOMENTS:
Covering the Muscat Youth Summit was a great experience as it enabled me to discover how young Omanis think.
I have also enjoyed covering the Oman National Team matches: it's a very exciting and emotional journey. You feel that you are closely connected to the listeners through constant updates. Football is both my passion and, of course, Oman's, and I hope that comes out vividly in the way I present the matches.
EMBARRASSING MOMENT:
I gesticulate a lot while speaking and the mike would suddenly fly away… and for a while, there would just be background music on air!
FIRST YEAR AT MERGE IN THREE WORDS:
Insightful, hard-work, and fun!
FUTURE PLANS:
More local highlights and spotlighting things occurring in the country
---
PRESENTER: SAYEH STONE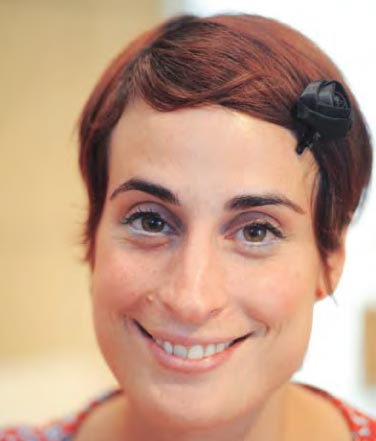 SHOW: Muscat Drive, Saturday to Wednesday 4 to 8pm
ABOUT THE SHOW:
It is all about entertaining people who are on the road – they might be going shopping or coming back from work or going out for dinner. I have lots of exciting new things planned for the show; our goal is to keep it entertaining, new and fresh.
I am always open to suggestions. It's fantastic to have support from the listeners and Facebook support has been particularly tremendous. It's nice to know, as a presenter, that people are listening to you.
I also find it refreshing that even when you are not in the studio, people come up and say hello to you.
YEAR AT MERGE:
Considering we are a new station, we have had our challenges; however, we have always striven to meet the listeners' needs. In terms of music content, we are doing well, although there is always room for improvement.
We are, after all, one year old; there are lots of possibilities to go in new directions. The support of listeners has been phenomenal, though. It's been like an adventure and I like adventures – Merge has been a pleasant adventure! I am going to liken it to a wadi experience as I quite enjoy wadis – high climbs, pleasant jumps, and at the moment, it's like we are swimming.
MEMORABLE MOMENTS:
It's been revitalising to work on the breakfast show. Other memorable moments would be interviewing Warren McDonald, the motivational speaker, and Antony Worrall Thompson, the British celebrity chef.
I also got the opportunity to chat to local businesses and personalities such as chefs and general managers Grand Hyatt, Six Senses Zighy Bay, Jebel Sifawy Boutique Hotel, doctors at Muscat Private Hospital, desert adventurers, Carolina Samara Hair Accessories, Sherie and the Lo Chef, to name a few!
I also look forward to meeting people who have won competitions: our audience no longer becomes faceless and we get the opportunity to see our listeners' faces
FIRST YEAR AT MERGE IN THREE WORDS:
Fun, hardwork, and interactive
EMBARRASSING MOMENT:
I sometimes struggle with pronunciations of artistes and road names; I can also talk too fast at times!
FUTURE PLANS:
We are very local and need to be more out and about with increased local content
---
PRESENTER: SAMI AL ASMI
SHOW: Weekend Drive, Fridays 5pm-8pm
ABOUT THE SHOW:
I started off with Omani Talent, which was about highlighting young Omani talents, excelling in whatever they do: musicians, artists, athletes and even entrepreneurs, and putting them under the spotlight and knowing who they are, their passion, and what drives them.
My current show is the Weekend Drive on Fridays 5pm to 8pm; it's a light show where I entertain the listeners on their chilled Friday evening.
FIRST YEAR AT MERGE:
Surreal! I've wanted to be in radio for many years and tried many times but it just never happened. However, when the opportunity came up with Merge, I went for it without any hesitation and I can't believe that it'll be a year since we've launched.
MOST MEMORABLE MOMENTS:
The first time I went on air – June 10, 2011. It didn't start off smoothly but I managed to steer the show into safety and my guests that night, SG and Ahmad Al Harthy were comfortable with the interview, and that helped a lot. I got rave reviews and a lot of constructive criticism after the show; I absolutely craved for more after that night! I sincerely enjoyed connecting with the guests and listeners and playing music and controlling the deck – it was an absolute high, indeed.
EMBARRASSING MOMENT:
Well, there have been several but the most common one is when I forget to put the mike on live; either speaking (thinking that I'm live) and end up knowing that I wasn't live and it was just the music playing. It is even more embarrassing when I am having a guest and their mike isn't on.
THREE WORDS:
Dream come true
FUTURE PLANS:
Will be doing Weekend Drive on Thursdays and Fridays and Omani Talent will be integrated into it in a totally new style.
---

Loading ...
Latest from Twitter